This spicy braised monkfish is highly popular in Korea. The white flesh fish is tender, and the crunchy soybean sprouts nicely complement the fish with a burst of robust flavor!
Agu-jjim (???), also called agwi-jjim (???), is a spicy fish dish made with agu (monkfish) and kongnamul (soybean sprouts). The white flesh underneath the red spicy sauce is tender and moist, and the crunchy bean sprouts nicely complement the white fish with a burst of spicy flavor!
Jjim (?) in Korean cooking refers to the dishes that are steamed or braised. Jjim dishes involve various different cooking techniques, which includes long braising used for dishes like galbijjim (braised short ribs) and short braising used to cook vegetables and seafood.
Agujjim (or agwijjim) is monkfish braised in a red spicy sauce with kongnamul (soybean sprouts). Actually, it's a variation of haemul jjim (spicy braised seafood). They are made similarly, but haemul jjim is made with a few different seafoods, such as crabs, shrimp, clams, fish, etc.
The dish originated from the southern coastal city of Masan, South Gyeongsang Province. In the past, this not so good-looking fish wasn't consumed as a food item in Korea due to its ugly appearance. However, some fishermen didn't want to waste their catches, so they brought them to a neighborhood eatery and ask the cook to make a tasty dish. That was in the 1960's. The dish is now enormously popular all over the country in Korea.
Monkfish is a firm, white fish with a texture similar to lobster meat. Here in America, it's known as "poor man's lobster". Korean markets around here sell trimmed monkfish so I don't have to deal with the huge, ugly head. The fishmonger will cut it into small pieces for you if you ask.
They are usually bone-in and skin-on, which is fine for us Koreans because we usually cook fish with bones and skins intact. But, you can also use fillets for this dish.
At restaurants, agujjim is usually sold as a large dish that's meant to be shared. It's also pretty pricey. I remember my first time ordering this dish at a restaurant around here, many years ago. The expensive, large dish we ordered to share was just full of soybean sprouts and not enough fish to go around. My family was disappointed, and I started to make the dish at home.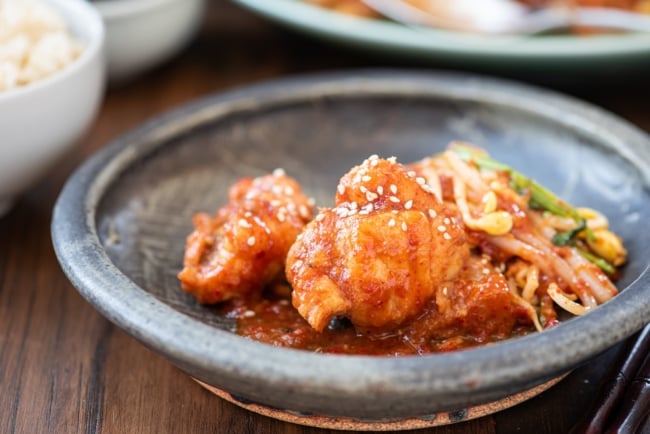 Agujjim typically includes lots of soybean sprouts, minari (Korean watercress) and mideodeok (sea squirts). Sea squirts are hard to find and expensive, so I usually substitute it with shrimp or clams. You can use monkfish only.
First cook the fish for a few minutes, and then stir in the seasoning mix until the fish is tender. Continue cooking for a few more minutes before adding the starch slurry and stirring well until the sauce thickens. Add the vegetables. Gently toss to evenly coat the vegetables with the sauce. Stir in the sesame oil and sesame seeds at the end. Serve with a bowl of rice.
The soybean sprouts play an important supporting role in this dish. Keeping the sprouts crunch for the final dish is the key. For that, you cook the sprouts briefly, plunge them into an ice bath immediately after, drain, and add to the dish at the end to combine with everything.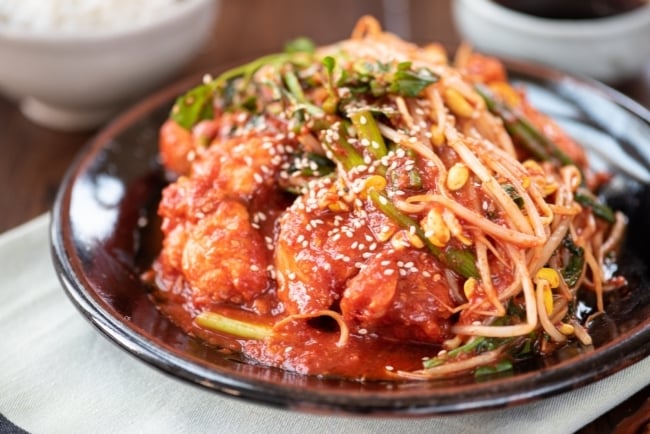 Have you tried this spicy monkfish recipe? Please rate the recipe below and leave a comment! Stay in touch by following me on YouTube, Pinterest, Twitter, Facebook, and Instagram.
Ingredients1.5 pounds monkfish (agwi, ?? or agu ??)2 tablespoons rice wine or dry white wine or use dry white wine1 teaspoon salt6 large shrimp, unpeeled (or a few little neck clams) – optionalSeasoning1 tablespoon minced garlic1 teaspoon finely grated ginger3 tablespoons gochugaru (Korean red chili pepper flakes)1 teaspoon sugar1 tablespoon soy saucepepper to taste2 tablespoons waterVegetables8 ounces soybean sprouts2 ounces minari or watercress cut into about 3 to 4 inch lengths2 scallions cut into about 2 inch lengthsOther1 tablespoon corn or potato starch, mixed in 2 tablespoons of water2 teaspoons sesame oil1 teaspoon sesame seedsInstructionsClean and cut the fish into about 2 inch-thick pieces. Drain, and pat dry with a paper towel. Mix well with a teaspoon of salt and the wine. Let it stand while preparing the other ingredients.Combine all the seasoning ingredients.Prepare a bowl with ice water. In a medium size pot, bring 1 cup of water to a boil. Add the soybean sprouts, and cook, covered, for 2 minutes over high heat. Drain, and immediately plunge them into the ice water. Drain.Heat a heavy, deep skillet. Add 1/2 cup of water and the fish, and cook, covered, over medium heat, for 3 or 4 minutes. Flip the fish over half way through the process.Stir in the seasoning mix and the optional shrimp (or clams). Continue to cook, covered, for an additional 2 to 3 minutes, or until the fish is tender and the optional shrimp is cooked through (or the clams open).Pour in the starch slurry, and stir well until the sauce thickens. Add the vegetables. Gently toss to evenly coat the vegetables with the sauce. Stir in the sesame oil and sesame seeds at the end. Serve with a bowl of rice.
This agujjim recipe was originally posted in November 2013. I've updated it here with new photos, more information and minor changes to the recipe.
The post Agujjim (Spicy Braised Monkfish) appeared first on JASAPASANGADWORDS.COM.
Kunjungi : https://ift.tt/2SdG7HM