Janchi guksu is a simple warm noodle dish made with thin wheat noodles (somyeon) that are usually in a clear anchovy or beef broth! It's an easy comfort food that's very popular in Korea.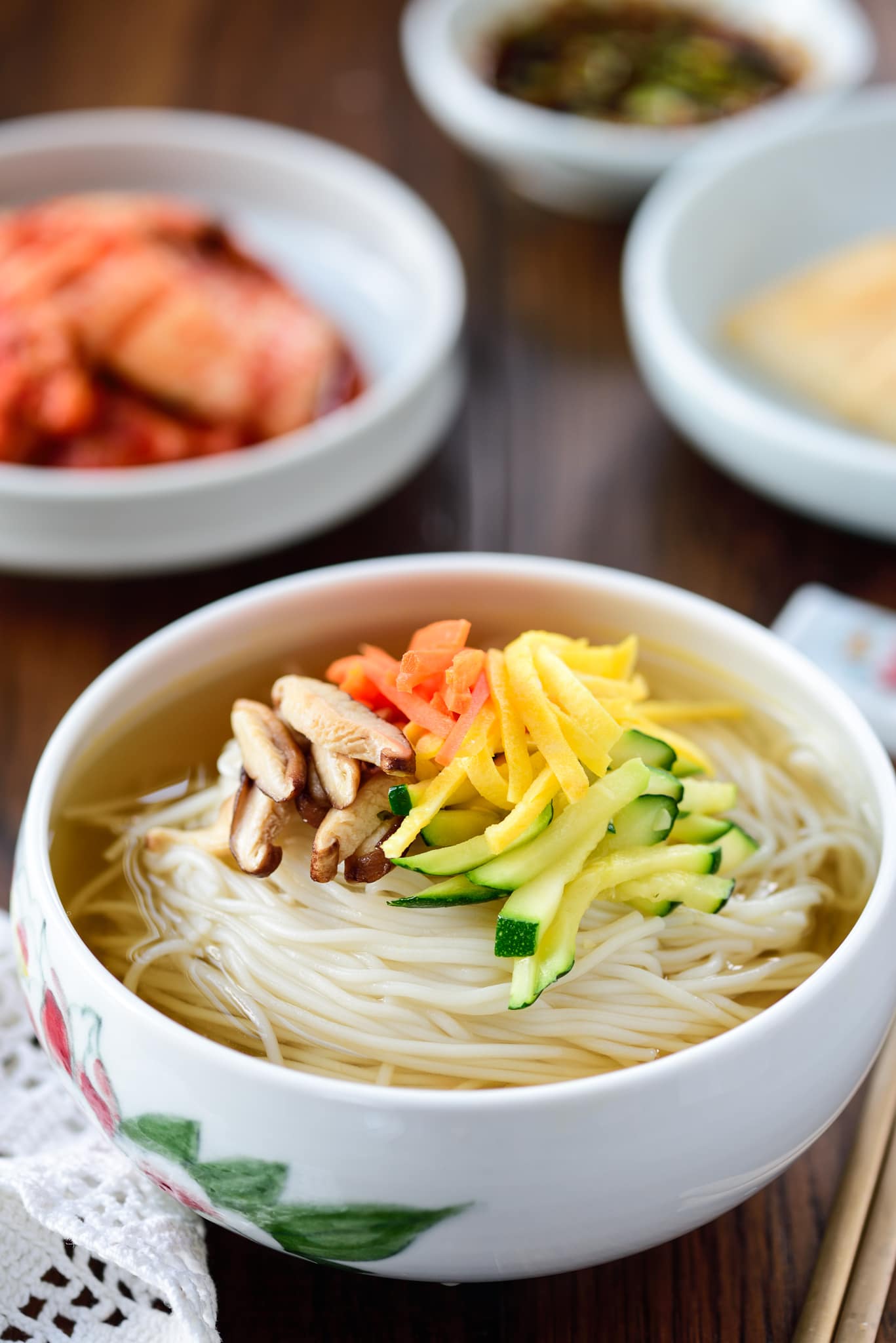 Janchi guksu (????) translated into "banquet or feast noodles," is a simple warm noodle dish made with thin wheat noodles (??, somyeon or somen) that are usually served in a clear anchovy or beef broth. Because noodles symbolize long and happy lives in Korean culture, this noodle dish is traditionally served alongside other special occasion foods at large feasts such as weddings. The name of the dish comes from that tradition.In my family, this is another easy go-to meal when we crave something warm and light. It is one of the most frequently requested meals by my daughter when she comes home.
The most important part of this humble noodle dish to me is the broth. You can of course use any broth, but anchovy broth is typical. Anchovy broth can be made simply with dried anchovies and kelp. Some vegetables, such as Korean radish, onion, and or dried shiitake mushrooms, will add more depth to the flavor of the broth. See my Anchovy Broth for Korean Cooking for options.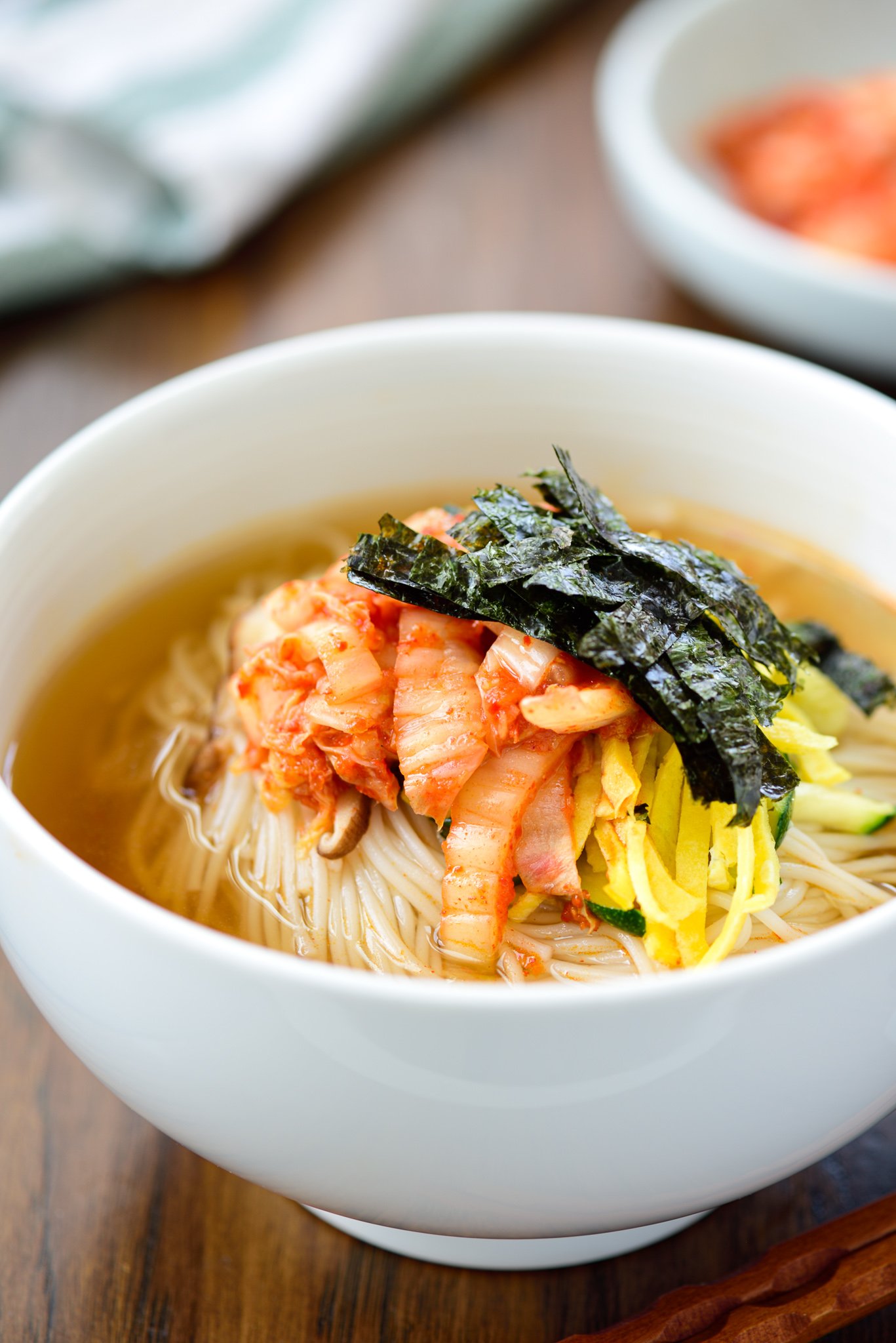 You can practically use any number and combination of vegetable or other toppings for this soup, making it as fancy or minimal as you want. Common toppings for this noodle soup include vegetables such as zucchini, carrot, and/or kimchi. Thin strips of tender beef, eomuk (fish cake) and roasted gim (dried seaweed) are also popular additions. Recently, this noodle soup appeared in the popular Korean drama, Crash Landing on You (??? ???). I loved everything about this drama! Due to a paragliding accident, a South Korean woman CEO makes an emergency landing in North Korea, where she meets a North Korean army officer. The story line is unique with a nice balance of romance, comedy, and action. It was fascinating to see every day life in North Korea and hear their dialect.As for this dish, the mother of the North Korean officer served the young woman from the South with a simple yet elegantly prepared noodle soup. It was a small serving of this noodle soup with minimal toppings, simply with strips of mushrooms, carrot, zucchini and egg garnish (jidan). I tried to recreate it in the first photo. This recipe shows 4 toppings and other optional topping possibilities. Feel free to pick and choose any number or combination of them. You can serve this noodle soup with a spicy soy sauce based sauce (yangnyeomjang). However, you don't absolutely need it. I like it without the sauce because I enjoy the clear and refreshing broth.
Dak kalguksu (Chicken Noodle Soup)
Jjambbong (Spicy Seafood Noodle Soup)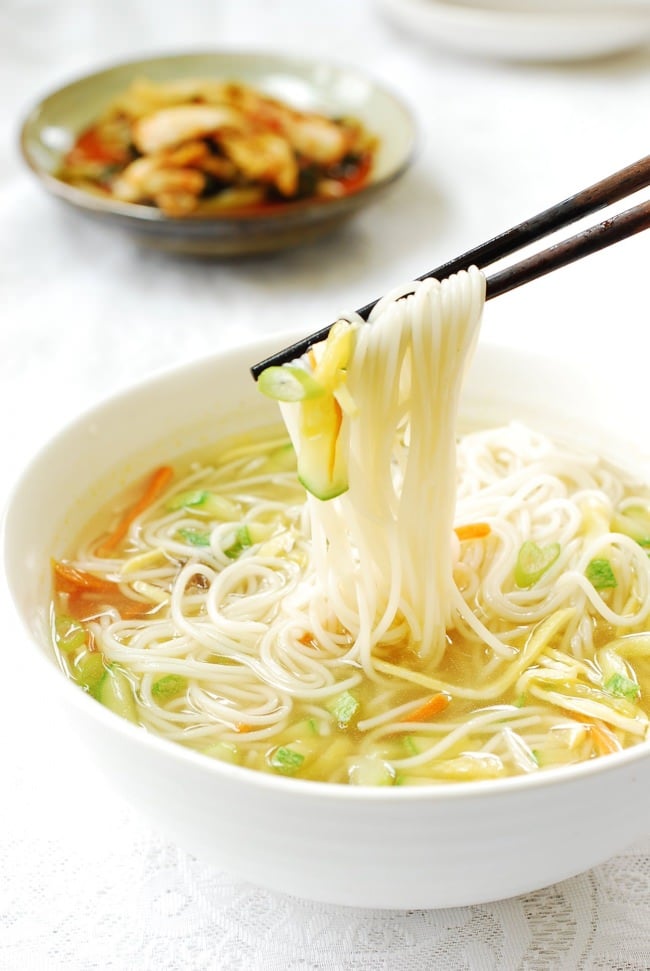 Have you tried this janchi guksu recipe? Please rate the recipe below and leave a comment! Stay in touch by following me on YouTube, Pinterest, Twitter, Facebook, and Instagram.
Ingredients8 ounces somyeon somen noodlesToppings (see note):1/2 zucchini (about 3 ounces, julienned)1 small carrot (3 ounces, julienned)3 Mushroom caps1 eggOptional toppings3 ounces tender beef, cut into thin strips, seasoned with 1 teaspoon soy sauce, 1/2
teaspoon sesame
oil, 1/2 teaspoon sugar, 1/2 teaspoon minced garlic, and pinch black pepper3 ounces kimchi, thinly sliced, mixed with 1/2 teaspoon sesame oil, and 1/4 teaspoon sugar1/4 sheet gim (roasted dried seaweed sheet), cut into short strips or crushed1/2 scallion – green part, chopped Yangnyeomjang (sauce) – Optional:2 tablespoons soy sauce1 teaspoon Korean chili pepper flakes gochugaru1/2 teaspoon sesame oil1/2 teaspoon sesame seeds1/2 teaspoon garlic1 scallion finely choppedMix all sauce ingredients well and set aside.InstructionsBrothPrepare your choice of broth, and keep it hot over low heat while preparing the toppings and noodlesNotesThis recipe shows 4 toppings and other optional topping possibilities. Feel free to pick and choose any number or combination of them.
This janchi guksu recipe was originally posted in June 201o. I've updated it here with new photos, more information and minor changes to the recipe.
The post Janchi Guksu (Warm Noodle Soup) appeared first on JASAPASANGADWORDS.COM.
Kunjungi : https://ift.tt/3bE2ttA